FINANCING
Exclusive plants, unique by their sizes and forms!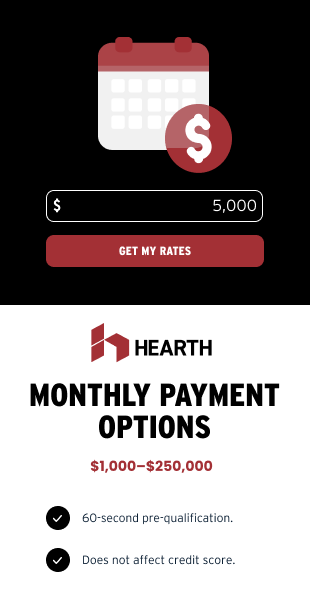 See your personalized monthly payment options within minutes and without affecting your credit score. No prepayment penalties. No home equity required.
Hearth makes it easy for you to find monthly payment options for your project, with: Loan amounts up to $100,000

Affordable monthly payment options

Funding within 1-3 days

No prepayment penalties

No home equity required
Find convenient monthly payment options for your project. See your personalized payment plans without affecting your credit score now.
Lenders will look at the following when determining rates and terms for clients:
1. Employment status
2. FICO Score (They have loans for scores ranging from 500 - 860)
3. Annual Income
4. Debt to income ratio
*The Wells Fargo Home Projects® credit card is issued by Wells Fargo Bank, N.A., an Equal Housing Lender. Special terms apply to qualifying purchases charged with approved credit. The special terms APR will continue to apply until all qualifying purchases are paid in full. 

The monthly payment for this purchase will be the amount that will pay for the purchase in full in equal payments during the promotional (special terms) period. For new accounts, the APR for Purchases is 28.99%. If you are charged interest in any billing cycle, the minimum interest charge will be $1.00. This information is accurate as of 02/01/2018 and is subject to change. For current information, call us at 1-800-431-5921.

Buy today, pay over time. Your Wells Fargo Home Projects credit card also brings you a revolving line of credit that you can use over and over again, special financing where available, convenient monthly payments to fit your budget, easy-to-use online account management, and bill payment options.
ADDITIONAL PAYMENT OPTIONS
While the above two Financing Partners are the most widely utilized by our clients, we do have additional options as well. Please contact us for more details if you are interested.
PELICAN AIR CONDITIONING AND HEATING, LLC
Our Service Areas
We are based in Garland, Texas but also service the surrounding areas, including but not limited to the following;
Forney, TX

The Colony, TX

Denton, TX

Carrollton, TX

Irving, TX

Princeton, TX

Dallas, TX

Richardson, TX
License Number: TACLB80334E
WE ACCEPT THE FOLLOWING FORMS OF PAYMENT